HEINEKEN: fANS OF THE WORLD
Heineken has a huge online presence. But the truth was, it hasn't always behaved on social media quite like the premium, cosmopolitan brand it was in real life. So a planner, an art director and a writer sat down with a bunch of blank cards. Which turned into content formats. Which turned into a global production machine that helped make the brand a little more relevant to the everyday (social) lives of its drinkers.
Taking our editorial direction - sort of Vice meets Esquire – a newsroom of researchers, journalists and TV crews around the world captured an initial 800 different pieces of content - ranging from regular features to in-depth content, light entertainment and special one-offs. Which now provide the template for 30 Heineken markets to better connect with their local audiences – and give everyone that itch to open their world.
CASE FILM
EDITORIAL
Journalists and fashionable types in 20 cities gave us a constant stream of tips on nightlife, culture, food, art and music.
PHOTOGRAPHY
No matter how unconventional your job, there's always a good reason for after-work drinks. Our hoard of photographers followed everyone from airline pilots to vampires to see what they got up to.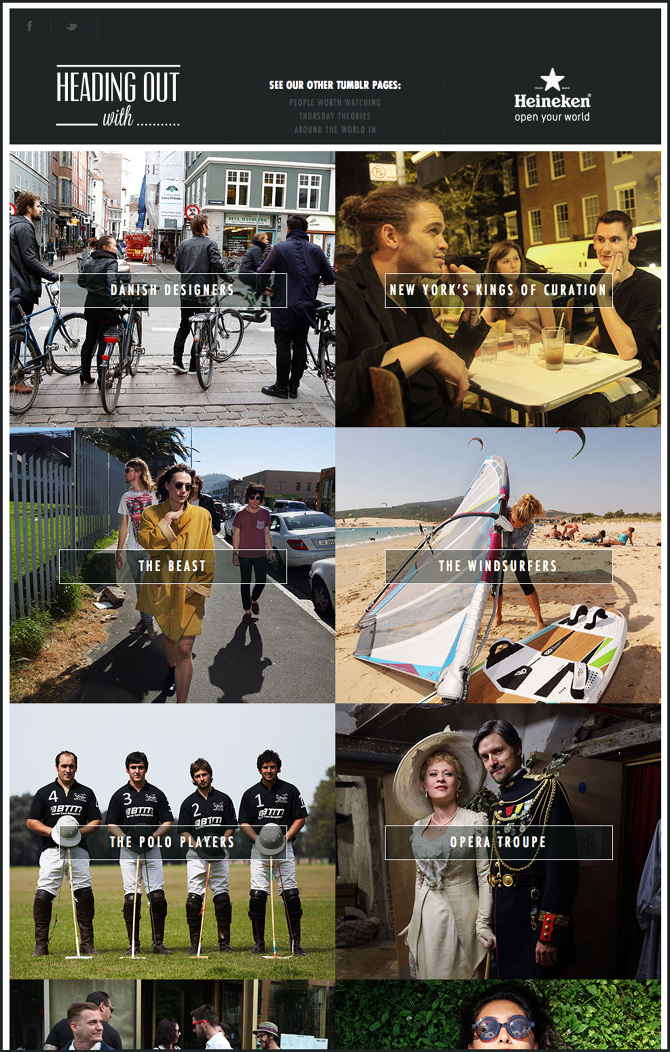 ILLUSTRATION
Every Thursday we came up with a new theory. A Thursday Theory. Mostly charts. Never likely to trouble the Nobel jury.
Heineken settles modern life's dilemmas the twitter way. Just tweet your problem to @heineken and one of our 140 eclectic characters from around the world would answer it with a video. Kind of like a 21st century magic 8-ball. But with Mongolian eagle handlers and thai traffic cops. Here's a quick compilation of answers we made early on to test the engine.
AROUND THE WORLD IN ONE SONG
How would dancers from different countries perform to a song they'd never heard of before? We took the only available pre-production copy of DJ Fresh's latest track around the world to find out.
AROUND THE WORLD IN THE KEY OF G
A new spin on the idea of collaboration and user generated content. Musicians from around the world were asked to play anything they liked - as long as it was in the key of G. The resulting samples were remixed back in London and a promo film was cut together using the material the DJ selected.